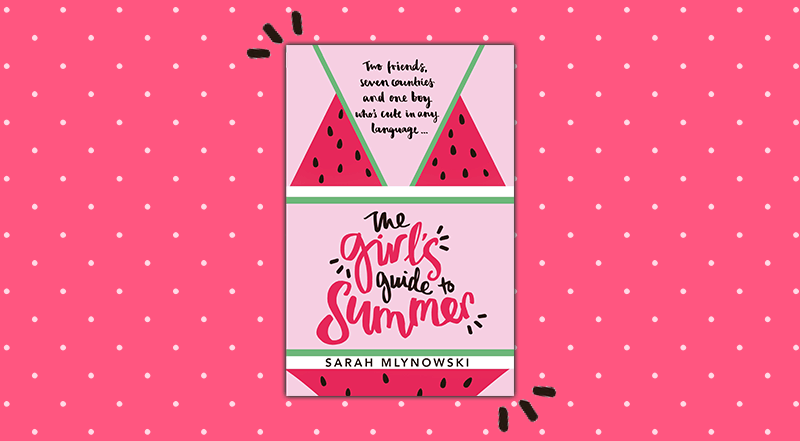 The Girl's Guide to Summer by bestseller Sarah Mlynowski published on the 15th June and it's EVERYTHING that we want on our summer reading pile.
Sun? Check. European cities? Check. Boys? Check. The Girl's Guide to Summer has it all and is THE perfect summer read. Just look at that cover!
Don't believe us? Why not read a sneak peek here!
Our Book Guide to Summer
We've also listed below our book guide for summer. You may not have the luggage space (unless you own a kindle), but taking books on holiday is essential. If you're on a beach all day, you need something to do…  If it happens to rain you can't rely on that unreliable internet connection… If you're escaping the country, why not escape into another world? Here are the books we would recommend to take with you anywhere this summer.
For the one who has some kind of exotic fruit on every item of clothing:
The Girl's Guide to Summer by Sarah Mlynowski
I mean, it says everything in that title. But this book is all about travelling around Europe and embracing the summer and boys. It's a great teen & YA read. It's easygoing and easy reading, perfect for those who are easily distracted and just want something to dip in and out of by the pool.
For the one who falls asleep with only one layer of Factor 20 sun cream: 
Need something to keep you awake whilst you lounge on a sunbed? Then, Contagion can certainly fill that void. This is the first book in Teri Terry's new trilogy and it does not disappoint. An epidemic is sweeping the country and you do NOT want to be among the infected. This book is definitely catching.
For the one who wants to explore the city:
Six of Crows by Leigh Bardugo
There's always one who can't get enough of the sights and the culture and if you're this person then you will LOVE the first book in Leigh Bardugo's duology. It's escapism at its very best and with a twist. You'll love exploring the Grishaverse and following these exceptionally flawed and ferocious characters.
For the one who's afraid of flying:
The Hawkweed Prophecy by Irena Brignull
We don't blame you. But why not dive into a book that features witches, but ones firmly planted on the ground? The Hawkweed Prophecy is a stunning debut which tells a bewitching story that is sure to distract you from the thought of being so high up.
For the one who insists on choosing the songs for the road trip playlist 
Orangeboy by Patrice Lawrence
Winner of the Waterstones Book Prize 2017 and the Bookseller's YA Book Prize 2017, Orangeboy is sure to grab your attention. Plus, why not add the Orangeboy audiobook to your music playlist? It's read by Doc Brown, the rapper.
Orangeboy is about listening to your heart and what you know is right and Patrice is a fantastic new voice for diversity in the YA world. This is a powerful urban story that will challenge preconceptions and melt the hardest heart.
Do you agree with our guide to summer? Let us know on our social channels!