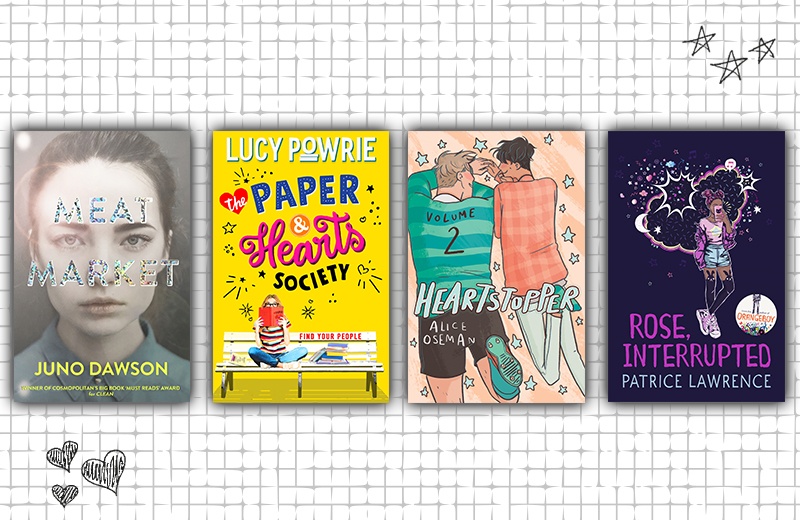 Summer is nearly here! Hooray.
Because of that, we wanted to give you a look at some of our brilliant summer reads…
MAY
You Got This by Bryony Gordon (2nd May 2019)
I wanted to be a unicorn. I wanted to be a princess. I wanted to be an astronaut. But the thing I really wanted to be more than anything else, was a little less like me.
Bryony Gordon is here with her FAB new book, in which she shares 10 crucial life lessons that she wishes she'd known as a teenager. From self-respect and esteem to body confidence and mental health, this is the ultimate guide to growing up happy!
Can Everyone Please Calm Down? by Mae Martin (16th May 2019)
'Hello, I'm Mae Martin, a Canadian comedian with an encyclopaedic knowledge of Harry Potter trivia. Aside from this, though, if there's one area that I'm 100% anecdotally and personally qualified to tackle, it's sexuality. If there is a 'sexuality spectrum', then I've probably existed at every point on it at some stage in my life.'
This book is my attempt to demystify sexuality by narrating my own, often humiliating adventures in sex, dating, gender identity, etc. and to get everyone to Just. Calm. Down.'
Meat Market by Juno Dawson (23rd May 2019)
Dirty. Dangerous. But girls would die to be part of it.
After Jana Novak is unexpectedly scouted and catapulted to superstardom, she discovers the fashion industry is as grimy as it is glamorous. And there are unexpected predators at every turn…
Loved Clean? You won't be able to resist this dark and unputdownable new book from Juno Dawson.
Contender: The Chosen by Taran Matharu (4th June 2019)
Throughout history, people have vanished with no explanation. A group of teenagers are about to discover why.
Cade is sitting on plane when he finds himself transported to another realm. Populated by long-forgotten kids and prehistoric creatures, Cade is forced to fight for his life at every turn. Because this is a tournament, an endless and brutal one with no way out but to play . . . or die.
The first in an epic new trilogy from the bestselling author of the Summoner series.
JUNE
The Paper & Hearts Society by Lucy Powrie (13th June 2019)
You're invited to join The Paper & Hearts Society … get ready to find your people!
Tabby Brown's one true love is … books! She's happy to spend all weekend reading, so you can imagine her delight when she discovers The Paper and Hearts Society. Suddenly being a book lover means Quidditch themed fancy dress parties, games like "shut up and Shakespeare" … and LOTS of chocolate.
From the queen of #UKYA, this book is perfect for fans of Holly Smale and Super Awkward.
The Hormone Diaries by Hannah Witton (13th June 2019)
This is it … the ultimate period self-help book that 50% of the world has been waiting for!
The Hormone Diaries is hilarious, frank and full of Hannah Witton's own, and her fans', experiences. With tons of helpful advice, hysterical anecdotes and a handful of awkward truths, this is the period book everyone needs.
The Boxer by Nikesh Shukla (27th June 2019)
Racism. Radicalisation. Friendship. Family.
Nikesh Shukla's gripping and powerful new story sees seventeen-year-old Sunny join a boxing club to learn to protect himself after a racist attack. There he finds a patchwork family and community that lifts him up and gives him a place to belong.
But when a Far-Right march through Bristol turns violent, Sunny is faced with losing his new best friend, Keir to radicalisation.
The Boxer is a life-affirming YA novel. 
The Sharp Edge of a Snowflake by Sif Sigmasdottir (27th June 2019)
The snow is falling thick and fast now. Snow in Iceland is dangerous.
Hannah has moved from her home in London to a place of eternal punishment. No, not Hell, but close: Iceland. There, she faces a new life working as an intern at her father's newspaper – a man she barely knows.
Imogen has the perfect life as a social media influencer. But behind the filters lies a dark secret. She thought she'd buried it: But the Beast is back – a ghost from her past who's threatening to ruin her future.
When a man is found murdered at the edge of the road in snowy Iceland the girls' lives collide.
Imogen had the motive, but can Hannah find out the truth?  
Sif's haunting teen Nordic Noir will grip you in icy suspense and won't let go until it's shattered your world…
JULY
A Strange Kind of Brave by Sarah Moore Fitzgerald (25th July 2019)
Allie has made a terrible mistake – one with ENORMOUS consequences, one she can't tell anyone about. Except for Dylan, the strange new boy who vows to help her in every way he can. Tragedy is in store, but in ways neither can ever begin to see…
This is To Kill a Mockingbird with an angelic twist that will set your pulse racing at every turn.
Heartstopper: Volume Two by Alice Oseman (11th July 2019)
Did you get your hands on the first volume of this phenomenal LGBTQ+  graphic novel? This stunningly illustrated story is heart-warming and will restore your faith in the world.
Now followed by the incredible Volume Two … we won't include any spoilers but get ready for your HEART. TO. STOP. We can't deal with how cute this book is! 
Queen of Ruin by Tracey Banghart (11th July 2019)
The breath-taking sequel to Grace and Fury.
A fierce tale of sisterhood, courtly intrigue, and heart pounding action, perfect for fans of Red Queen and The Selection.
Rose, Interrupted by Patrice Lawrence (25th July 2019)
Being a teenager is hard enough, but it's even harder in a world you've never known …
17-year-old Rose and 13-year-old Rudder have escaped a strict religious sect with their mum and they're still trying to make sense of the world outside.
Freedom, laughter and fun are now at the family's doorstep, but there's also loads of scary stuff that Rose has no idea how to handle – it's normal for girls to let their boyfriends take naked pictures of them, right?
When Rudder accidentally sets a devastating chain of events into action, Rose must decide whether to sacrifice everything and go back to the life she hates, in order to save the people she loves.
From UK YA star and award-winning author of Orangeboy, Patrice Lawrence, Rose, Interrupted is a coming of age story, slap-bang in the middle of a strange new world.
Arrowheart 2 (The Love Curse) by Rebecca Sky (11th July 2019)
What if you had the power to make any boy fall in love with you? 
Being a Hedoness makes true love impossible for Rachel. She wields the power of the magical golden arrow, and with it, the promise to take the will of any boy she kisses. But the last thing Rachel wants is to force someone to love her!
Addictive romance with a fantasy twist for fans of Holly Smale, Ally Carter, and Zoe Sugg.
Becoming Dinah by Kit de Waal (11th July 2019)
Seventeen-year-old Dinah needs to leave the weird commune (A.K.A home) where she grew up. She needs a whole new identity, starting with shaving off all her hair, her 'crowning glory'.
She has to do it quickly, because she has to go now.

This fast-paced YA road trip novel is perfect for anyone itching to get out into the world and away from home. The obsessive Ahab, Dinah's self-discovery and a focus on female power makes this the MUST-HAVE book for 2019
AUGUST
Everless: Evermore by Sara Holland (8th August 2019)
Time is a weapon. Only she can use it.
IT'S HERE!!! The paperback edition of Evermore – the high-stakes, star-crossed follow up to Everless that you've been desperately waiting for. And we understand why, this fantasy series combines alchemy, magic, romance and ancient legends that will send shivers down your spine. 
The Black Flamingo by Dean Atta (8th August 2019)
'I masquerade in makeup and feathers and I am applauded.'
You are going to be OBSESSED with this fiercely told, powerful coming-of age story from one of the UK's leading poets, Dean Atta.
Told entirely in verse, a boy comes to terms with his identity as a mixed-race gay teen. Then, at university, he finds his wings as a drag artist, The Black Flamingo.
Speak by Laurie Halse Anderson (22nd August 2019)
Nobody will talk to Melinda on her first day at Merryweather High
All because she called the cops on an end-of-summer party.
But if only she could tell everyone why she called the police that night…
If she could explain what happened to her… If she could speak…
Then everything might change.
Reissued with a haunting and beautiful new cover, this timely YA novel is about women finding their voices and speaking out about sexual assault. You do NOT want to miss this one…
Speak: The Graphic Novel by Laurie Halse Anderson (22nd August 2019)
'I said no.'
When something terrible happens to Melinda over the summer, she returns to Merryweather High as an outcast.
This graphic novel version of the fiercely authentic and resonant novel, Speak, is full of powerful and evocative illustrations, which perfectly capture every agonising, joyful and terrifying moment of this incredible story.
So which books are YOU most excited for? Be sure to fill us in on our social channels! 
Related Tags:
a strange kind of brave
,
Arrowheart
,
can everyone please calm down?
,
contender
,
hannah witton
,
Heartstopper
,
interrupted
,
juno dawson
,
Lucy Powrie
,
meat market
,
nikesh shukla
,
patrice lawrence
,
queen of ruin
,
rose
,
summer
,
summer 2019
,
summer books
,
the boxer
,
the hormone diaries
,
The Paper and Hearts Society
,
the sharp edge of a snowflake
,
you got this