This summer, READ WITH PRIDE…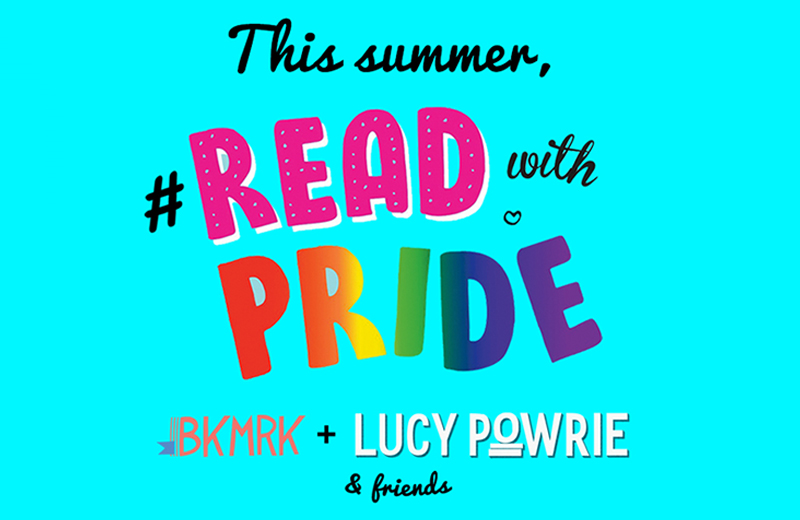 This summer, join us (BKMRK), author Lucy Powrie and a whole host of authors and influencers to #ReadwithPride!
From 26th June, we're launching a summer-long online celebration and readathon called READ WITH PRIDE to tie into the publication of Lucy Powrie's novel The Paper & Hearts Society: Read with Pride AND to digitally celebrate Pride in lieu of physical events.
Lucy Powrie, BookTuber and author of The Paper & Hearts Society and The Paper & Hearts Society: Read with Pride will be joining us to celebrate all things #ReadwithPride!
The nine-week online event will be all about being proud of who you are and what you read, with a focus on nine of our LGBTQ+ books. It will involve a summer-long reading challenge with recommended titles from us and Lucy Powrie, readalongs and reading sprints, exclusive author content, giveaways, Q&As and much more!
If you'd like to join in with the celebration, download your own READ WITH PRIDE summer reading challenge poster here.
Look out for more information on ours and Lucy's social channels – links below!
Find out more about the books and dates we'll be celebrating each week below.
29th June – 5th July 2020
The Paper & Hearts Society: Read with Pride by Lucy Powrie
Activity will kick-off on Monday 1st June with Lucy Powrie's second book in The Paper & Hearts Society series (though you don't have to have ready Book 1 to enjoy Read with Pride).
About The Paper & Hearts Society: Read with Pride:
Join Olivia Santos and her Paper & Hearts Society friends as she campaigns for access to LGBTQ+ books in her school library … and starts an underground LGBTQ+ book club for students along the way!
Sometimes, when you're in too deep, it's up to your friends to look out for you …
Buy now:
6th – 12th July 2020
Heartstopper Vols. 1-3 and Heartstopper Colouring Book by Alice Oseman
About Heartstopper:
Heartstopper is a bestselling queer graphic novel series following two teenage boys (Nick and Charlie) who fall in love.
Charlie and Nick are at the same school, but they've never met … until one day when they're made to sit together. They quickly become friends, and soon Charlie is falling hard for Nick, even though he doesn't think he has a chance.
But love works in surprising ways, and Nick is more interested in Charlie than either of them realised.
Buy now:
About the Heartstopper Colouring Book – coming 11th June 2020:
Packed with stunning artwork from the bestselling Heartstopper series, this unique colouring book allows you to relax with Nick, Charlie and friends – and also includes several exclusive never-before-seen images!
Buy now:
13th – 19th July 2020
Only Mostly Devastated by Sophie Gonzales
About Only Mostly Devastated:
It was the very last Wednesday of August when I realised Disney had been lying to me about Happily Ever Afters. Because, you see, I was four days into mine, and my prince was nowhere to be found…
Ollie and Will were a summer fling; now they're classmates. But only one of them is out…
An utterly joyful queer reimagining of Grease (except without the music) for fans of Simons VS the Homo Sapiens Agenda and Red, White and Royal Blue. 
Buy now:
20th – 26th July 2020
Wonderland by Juno Dawson
About Wonderland:
What happens when you fall down the rabbit hole?
A dark and compulsive take on Alice in Wonderland and a searing exploration of mental health, gender and privilege from bestselling author Juno Dawson.
On the trail of finding her troubled friend Bunny, Alice discovers a mysterious invitation to 'Wonderland': the party to end all parties – three days of hedonistic excess to which only the elite are welcome.
Will she find Bunny there? Or is this really a case of finding herself? Because Alice has secrets of her own, and ruthless socialite queen Paisley Hart is determined to uncover them, whatever it takes.
Alice is all alone, miles from home, and now she has a new enemy who wants her head…
Buy now:
27th July – 2nd
August 2020
The Black Flamingo by Dean Atta
About The Black Flamingo:
FIND YOUR WINGS. 
A powerful coming-of-age story told in verse about a young man's journey to becoming drag artist, The Black Flamingo, from one of the UK's leading poets, Dean Atta.
This is not about being ready, it's not even about being fierce, or fearless, IT'S ABOUT BEING FREE.
Buy now:
3rd – 9th August 2020
Eight Pieces of Silva by Patrice Lawrence
About Eight Pieces of Silva:
An addictive mystery that refuses to let you go long after the final page, from the multi-award-winning author of Orangeboy, Patrice Lawrence.
Can Becks piece the jigsaw together and find her missing sister before Silva loses herself?
Pre-order now:
10th – 16th August 2020
The Deathless Girls by Kiran Milwood Hargrave
About The Deathless Girls:
Gothic, intoxicating, feminist and darkly provoking with a deeply romantic f/f love story –  this is the breathtakingly imagined untold story of the brides of Dracula, from bestselling author Kiran Millwood Hargrave.
On the eve of her divining, seventeen-year-old Lil and her twin sister Kizzy are taken from their beloved traveller community and enslaved by the cruel Boyar Valcar.
Forced to work in the castle kitchens, Lil is comforted when she meets Mira, a fellow slave who she feels drawn to in a way she doesn't understand. But she also learns about the Dragon, a mysterious and terrifying figure of myth and legend who takes girls as gifts…
Buy now:
17th – 23rd August 2020
Becoming Dinah by Kit de Waal
About Becoming Dinah:
The perfect read for anyone who's ever wondered where they came from and where they might be going next.
A YA coming-of-age road trip novel about obsession, self-discovery, female power, and the people we meet along the way, from Costa Award shortlisted author Kit de Waal.
Buy now:
24th –  30th August 2020
Can Everyone Please Just Calm Down? by Mae Martin

About Can Everyone Please Calm Down?:
WHY DO WE FIND SEXUALITY SO, WELL … SCARY?
Comedian and star of hit Channel 4 series Feel Good, Mae Martin investigates in this hilarious and intelligent guide to 21st century sexuality. Covering everything from the pros and cons of labels, to coming out and the joys of sexual fluidity, Mae ponders all the stuff we get hung up about – and then a bit more.
Buy now:
28th –  30th August 2020
A celebration of ALL LGBTQ+ books!
We hope you enjoy reading with pride with us – happy reading to you all!
If you want to find out more about PRIDE and LGBTQIA+ causes, we'd recommend the below charities and websites:
Stonewall
Website: https://www.stonewall.org.uk/
Amnesty UK
Website: https://www.amnesty.org.uk/issues/about-amnesty
LGBT Foundation
Website: https://lgbt.foundation/