Nikesh Shukla: On Writing The Boxer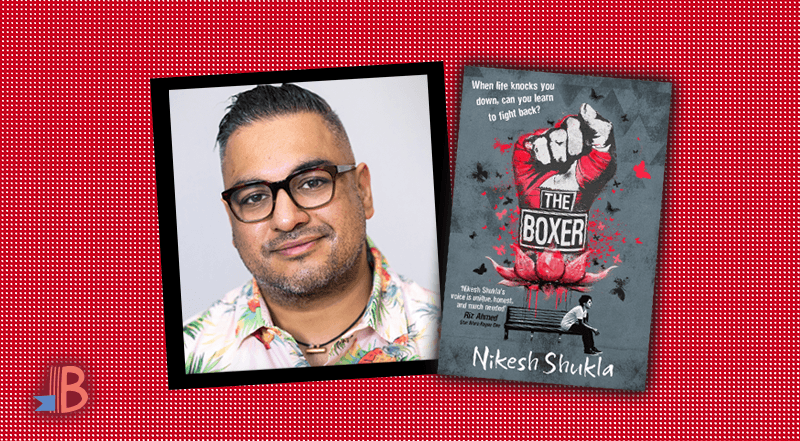 Nikesh Shukla, author of Run Riot and The Good Immigrant, tells BKMRK how he came about writing his latest YA book The Boxer, his feelings towards it, and why the story is more important to tell than ever.
The Boxer poured out of me. It was the culmination of things I had been thinking about for a LONG time. You can read the four columns I wrote here, here, here and here about why I took up boxing. But it was more than that. As well as the visceral terror of the initial incident that led me to my boxing gym (where I tried a technique class that left me with a black eye and a grin), it was everything I was worried about in the country as well. When my amazing editor Emma Goldhawk asked what I wanted to do next, the idea for The Boxer came out fully formed. I said I wanted to write a book about someone who, after a racist attack, takes up boxing, but finds that his mental health is shot and his new best friend is being radicalised by the far right. Oh, and it's told over the ten rounds of their first boxing match together. Emma was sold. And so was I.
Post Brexit, I noticed not only how much hate crimes were on the increase and being reported, but also how more and more people were expressing far-right feelings. And also, there's the impact on family. Like, what do you do if your parents turn around and express anti-immigrant views? Do you challenge it or do you respect your elder? I had written a short story on this very thing for the A Change Is Gonna Come anthology, and I knew of people in my own family who were anti-immigrant, which I found preposterous given they themselves … were … immigrants!
But mostly, I wanted to write about mental health. When I put out The Good Immigrant, an award-winning, bestselling collection of essays, in 2016, I received a lot of praise and acclaim. But also, a lot of abuse. Both online ​and in person. And it was hard. I didn't have anyone to talk to about it. It messed with my brain. Like, totally screwed up the wiring in my head. I did two years of touring the book, trying to have honest conversations about racism, and what I found was people were either totally onboard because they had experienced it or they were defensive and wanted to erase your position. When you're touring alone, by yourself, with those thoughts, with those people on your shoulder, it can really undercut your sense of self and make you question everything. So when I was on that train and those drunk men were aggressive towards me, I didn't know what to do. I had no one to turn to. Certainly no one who would understand. So I tweeted. I got the support I needed but I also courted the 'it didn't happen' crew. Which again was a way of people trying to erase my position.
After touring The Good Immigrant, I now had to sit down and write The Boxer and it poured out in three months. I gave it everything. Every punch tells a story about me and my yearning for better mental health, for my trying to unburden myself of this conversation around race and racism I am embroiled in. Every tear was one I had shed. Every single moment Sunny was alone in his room with his demons and the feeling that this is all his fault was me.
It's important that you know the real place The Boxer came from. It was dark. Often, I feel like I lost a sense of myself in those years before I wrote this book. I don't feel entirely myself anymore. But this story, it's one you need to hear. Because it is happening all around us right now.
The Boxer is out now and you can buy it here.