Make Your Own HEXED Witchy Cocktail 🔮
Jessie Jones has just discovered she's a witch. Too bad there isn't a hex to make slimy Callum Henderson and his friends disappear … yet.
8th July can only mean one thing – brand new bookish magic from Julia Tuffs in the form of Hexed! A new, fiesty debut novel described by Kate Weston as 'pure fierce magical genius', we're celebrating with this totally delicious Hexed-inspired mocktail. Why not put your potion making skills to the test and try it out?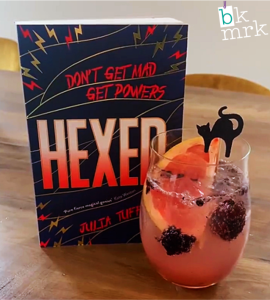 Ingredients:
4 Blackberries
1 Grapefruit
1 tsp of Maple Syrup
Soda Water
Ice
Step One: Cut the grapefruit and squeeze the juice from one half into a bowl.
Step Two: Use a sieve to separate the grapefruit juice from the pulp.
Step Three: Muddle the blackberries in a glass.
Step Four: Add the ice, grapefruit juice and maple syrup into the glass.
Step Five: Top up with soda water and add a slice of grapefruit to complete (plus any witchy decorations you have)!
You can see our cocktail making in action here, on Instagram Reels. Don't forget to share your cocktail on social by using #Hexed and tagging us at @teambkmrk.
Want to know more about Hexed?
New girl, new school, new life on stupid island – thanks Mum. All Jessie Jones wants is to keep her head down, avoid school douchebag Callum Henderson, and coast – middle-of-the-road-like. But when strange powers start to manifest during crippling period pains, flying under the radar seems highly unlikely.
Can Jessie embrace her new-found witchiness, control her erratic powers and work out a way to bring down Callum and his cult of toxic masculinity?
Don't get mad, get powers.