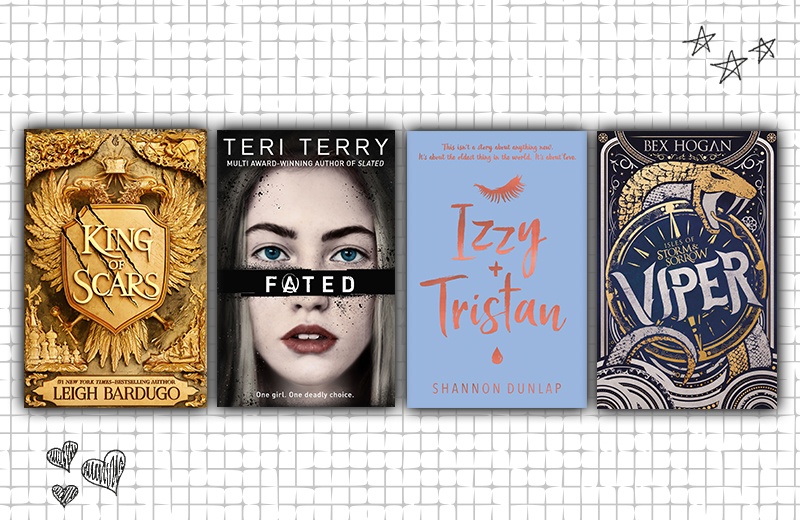 We hope you're as excited as we are about our 2019 books, because we have got some seriously good things in store.
Read on to find out about all our new Teen and YA titles coming this Spring!
JANUARY
King of Scars – Leigh Bardugo (29th Jan 2019)
From the queen of YA fantasy, Leigh Bardugo, comes a brand new Grishaverse book. King of Scars is the first instalment in a duology featuring Nikolai Lantsov, privateer, king, and Ravka's only hope. If you loved Shadow and Bone and Six of Crows you will need to get your hands on a copy of this epic new Grisha story.
Evermore – Sara Holland (31st Dec 2018)
Time is a weapon. Only she can use it.
Evermore is the high-stakes, star-crossed follow up to Everless that you've been desperately waiting for. And we understand why – this fantasy series combines alchemy, magic, romance and ancient legends which will make your hair stand on end.
We know this one technically comes out right at the end of 2018, but that's even more exciting, right?!
Devoted – Jennifer Mathieu (10th Jan 2019)
Her life is her own. But can she find the courage to fight for it?
An empowering, feminist coming-of-age story about self-discovery, and a girl's fight for freedom and her voice. From the hugely talented author of MOXIE (a Zoella's Book Club book) – you don't want to miss this one!
Nowhere on Earth – Nick Lake (10th Jan 2019)
Nothing in her life is what it seems – not even the things she holds dearest of all…
From the author of Satellite, this unique survival story is haunting and brilliant, with a twist that will leave your heart in your mouth. We guarantee you've never read anything like it!
The Colour of the Sun (Paperback) – David Almond (10th Jan 2019)
Shortlisted for the 2018 Costa Book Awards.
"The day is long, the world is wide, you're young and free."
The Colour of the Sun is an outstanding novel, full of warmth and light, with funny and moving moments in equal measure. Written by the multi-award-winning author of Skellig, the paperback comes out in Jan 2019.
FEBRUARY
Colour Me In (Paperback) – Lydia Ruffles (7th Feb 2019)
After its hardback outing in August of this year, the stunningly beautiful Colour Me In is coming in paperback in Feb 2019.
The Catcher in the Rye meets Turtles All The Way Down, this is the story of troubled young actor Arlo, spiralling after a life-shattering event. Flying halfway across to world in an attempt to run from his pain, Arlo finds solace in fellow traveller Mizuki – but is their relationship enough to heal his heart?
Heartstopper: Volume One – Alice Oseman (7th Feb 2019)
Boy meets boy. Boys become friends. Boys fall in love. Dive into this ground-breaking LGBTQ+ graphic novel about life, love, and everything that happens in between.
Already an online phenomenon, Heartstopper is genius piece of storytelling that will fill you with joy (we COULD not stop smiling while reading it!). This is the first volume in the series, with much more to come.
You Can't Hide – Sarah Mussi (7th Feb 2019)
Can you trust your own memories?
An unreliable narrator, secret identities and lost memories combine in this page turning YA thriller that will keep you guessing right until the very last page. Perfect for fans of One of Us is Lying.
Resisters by Lauren Sharkey (21st Feb 2019)
Young girls and women are uniting across the world to create change, have their voices heard and stand up for what they believe in!
This fantastically feminist book features the powerful stories and achievements of 50 young campaigners, aged between 9 and 21, who are working to improve the lives of women like them. 
Celebrate your fellow (re)sisters with this fab book all about Girl Power!
MARCH
Izzy + Tristan – Shannon Dunlap (7th March 2019)
This isn't a story about anything new. It's about the oldest thing in the world. It's about love.
Inspired by the legend of Tristan and Iseult, with all the tragedy and romance of Romeo and Juliet, this is a heartbreaking, contemporary novel for anyone who loved All The Bright Places and The Hate U Give.
Shannon Dunlap, an exciting new voice in YA, brings a gripping tale of first love and a sprawling epic about the bonds that tie us together and pull us apart.
Fated – Teri Terry (7th March 2019)
I'm just one girl. What can I do?
This red-hot thriller is the prequel to the multi award-winning SLATED trilogy by Teri Terry. Packed with secrets and revelations, FATED shines a new light on the original story which thrilled the nation.
One girl, one choice. She can make a difference: she must. Even if her life – and her heart – are on the line …
APRIL
Viper – Bex Hogan (18th April 2019)
Fantasy fiends rejoice! The Isles of Storm and Sorrow is the next big fantasy series to look out for in 2019.
Viper is the first book in this epic new trilogy, and features revenge, magic, political intrigue and pirate assassins. Yeah, it's THAT good.
Dear Ally, How Do I Write a Book? – Ally Carter (4th April 2019)
Always wanted to write? Not sure how to begin, or what to do with tricky characters or pesky plot lines? Ask Ally!
Ally Carter is the internationally bestselling author of Gallagher Girls, Embassy Row and Heist Society. Known for her gripping plots and adventures that combine danger and glamour, Ally knows how to write brilliant books for teen and YA readers.
Now Ally and her author friends, including Holly Black, Cassandra Clare and Kody Keplinger, want to help YOU write the book you've always dreamed of. Part agony aunt, part writing guru, this writing guide is thoughtful, witty and best of all, useful.
The Boy Who Steals Houses – C. G. Drews (4th April 2019)
Can two broken boys find their perfect home?
Sam would do anything for his autistic brother, Avery. Even something that could get him into serious trouble. But through a comedy of errors, Sam finds himself in the most unusual and unpredictable of situations – which might just save his life. By turns heartbreaking and heartwarming, this is a gorgeously told, powerful story from the author of A Thousand Perfect Notes.