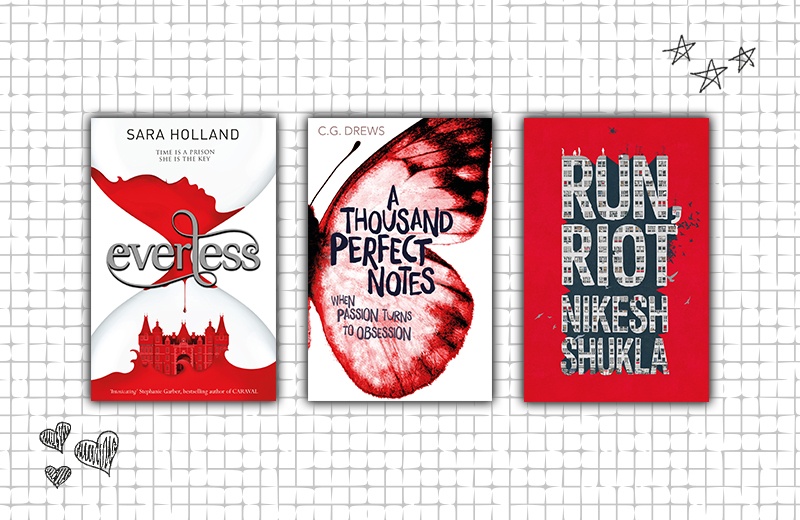 It's June (WHAT?!) and we have SO MANY great books coming out this month.
Get ready. Get set. FOR SUMMER!
JUNE
Everless by Sara Holland (28th June 2018)
A Sunday Times and New York Times bestseller, perfect for fans of the Red Queen trilogy – now in paperback.
In the land of Sempera, the rich control everything – even time. Ever since the age of alchemy and sorcery, hours, days and years have been extracted from blood and bound to iron coins. The rich live for centuries; the poor bleed themselves dry.
'An intoxicating blend of blood, secrets, and haunting mythology, Everless gives new and terrifying meaning to the phrase running out of time.' Stephanie Garber, author of Caraval
A Thousand Perfect Notes by CG Drews (7th June 2018)
An emotionally charged story about the power of dreams, and how passion can turn to obsession.
We've already had SUCH  a great response to this book on BKMRK (that cover though)! This is an explosive debut for YA readers which tackles the dark topic of domestic abuse in an ultimately hopeful tale.
Run, Riot by Nikesh Shukla (14th June 2018)
A novel about young people taking charge of their own destiny. A novel about standing up and being counted.

A pacey, thriller like nothing you've read before. Told in real time, this a book you do not want to miss.
Taran and her twin Hari never wanted to move to Firestone House. When they start noticing boarded-up flats and glossy fliers for expensive apartments, they don't think much of it – until Hari is caught up in a tragedy, and they are forced to go on the run. It's up to the teenagers to uncover the sinister truth behind what's going on in the block, before it blows their world apart.
A Boy Called Ocean by Chris Higgins (14th June 2018)
One boy stranded at sea.
One girl back on land.
One ocean between them.
The only thing willing him to survive is the thought of her.
A romance with bite, perfect for fans of Jandy Nelson and Nicola Yoon.
The Love Curse: Arrowheart by Rebecca Sky (14th June 2018)
Ready for the perfect summer read (about girls who kiss the boys and make them cry)?
An addictive romance with a fantasy twist for fans of Holly Smale, Ally Carter and Zoe Sugg. Prepare to fall under the spell of Wattpad star Rebecca Sky, in this compulsive romance.
The Summer of Us by Cecilia Vinesse (14th June 2018)
Five friends.
Ten days.
The most beautiful cities Europe has to offer. And messy, complicated, can-this-really-be-happening love story – or two…
The perfect summer read for fans of Jennifer E Smith and Sara Barnard.