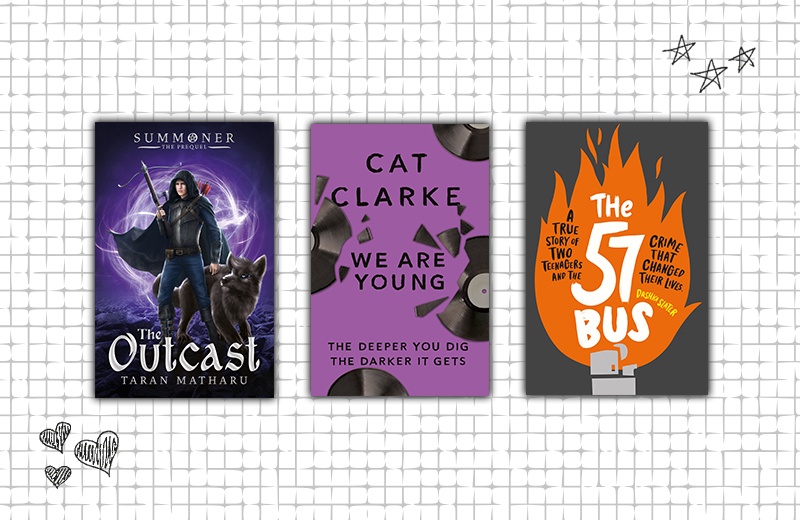 It's 1st of May HOORAY and here are our five gorgeous May titles.
MAY
Summoner: The Outcast (3rd May 2018)
The brand new Summoner novel from Taran Matharu is a prequel to Summoner: The Novice (chosen as a World Book Day title of 2018) and it is mind-blowing. The Outcast tells the story of orphaned stable boy Arcturus, the first non-noble summoner to be allowed access to Vocans Acadamy.
Summoner fans: be prepared for more action and characters you love.
New readers: this is your perfect introduction to the series!
We Are Young by Cat Clarke (3rd May 2018)
'A new Cat Clarke novel is always something to celebrate' JUNO DAWSON
And we are definitely celebrating. Cat Clarke, author of Girlhood – a 2017 Zoella Book Club pick – is back with a riveting, heartbreaking, trailblazing new novel.
It starts with a wedding. And a car crash.
The Colour of the Sun by David Almond (3rd May 2018)
David Almond, author of Skellig and A Song for Ella Grey is back with an outstanding novel full of warmth, light and hope.
David Almond says: 'I guess it embodies my constant astonishment at being alive in this beautiful, weird, extraordinary world.'
And we can totally relate because the world really is beautiful (especially when it involves books).

Ventura Saga: The Truth of Different Skies by Kate Ling (3rd May 2018)
What makes you abandon your world? How do you say goodbye when it's forever?
A heart-breaking story about survival, love and hope and the prequel to The Loneliness of Distant Beings and The Glow of Fallen Stars.
The 57 Bus by Dashka Slater (31st May 2018)
One teenager in a skirt.
One teenager with a lighter.
One moment that changes both their lives forever.
This is a story of recovery, reconciliation, forgiveness and, above all, hope. It's about the power of being true to yourself, bravery and the good and bad in all of us.
And, remarkably, it's all true.