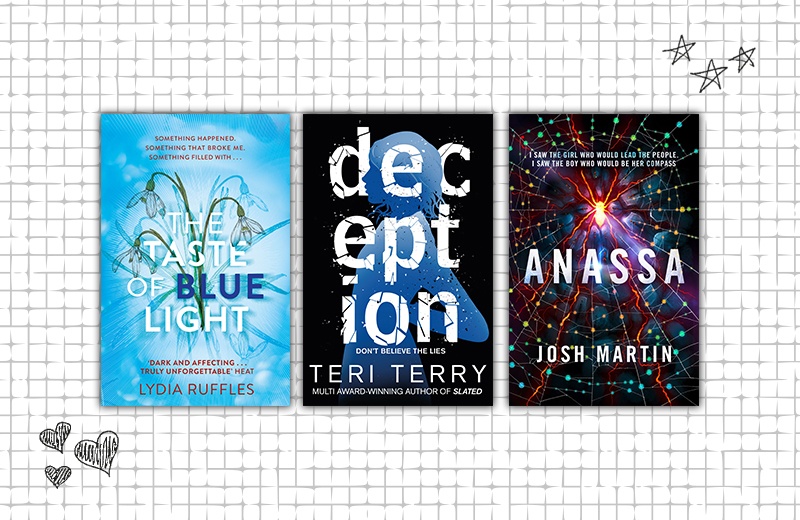 The Beatles REALLY should have changed their song lyrics to 'BOOKS ARE ALL YOU NEED' because books are all we're thinking about in the run-up to Valentine's. And luckily for you, we have some great books to cuddle up with this February…
FEBRUARY
The Taste of Blue Light PB – Lydia Ruffles (8th Feb 2018)
Louise O'Neill said this was The Bell Jar for this generation. And my god, was she right. You've no doubt heard a lot about this book but every good thing you've heard is true. This is a story of a girl's desperation to uncover the truth of what really happened to her after that summer party, of why she cannot remember, of why she dreams in red. It's a debut. And it's stunning.
Dark Matter: Deception – Teri Terry (8th Feb 2018)
You know, when you read something from Teri Terry, that it's going to be good. Book one: Contagion blew our minds. And now the second book in the series is here to do it all over again. If you like dystopian novels with grit and great characters than you need to catch this series.
Anassa – Josh Martin (8th Feb 2018)
Compelling and absorbing fantasy at its very best. This is a VERY special series.
Ariadnis was the first in the series. And we loved this book because…
A) It features real, grounded characters that are relatable
B) It's epic and awesome and completely gripping
Anassa is the second in the series and set to be just as igniting! It begs the question, should you fight or should you try and reunite?
Miss Match: The Truth About Destiny – Crystal Cestari (8th Feb 2018)
You are meant to be with this book. No, seriously. The follow-up to the AMAZING Miss Match is incredible and if you haven't read the first book then we urge you to because it's just the perfect thing to read when you're tired of all things too serious and too negative. It's uplifting and cheeky and brilliant and really funny and Amber is a character you really want to be your friend.
Amber Sand has a gift. Five seconds of eye contact, and she can see your soul mate.
Midnight Sun – Trish Cook (22nd Feb 2018)

Soon to be a major motion picture starring Bella Thorne and Patrick Schwarzenegger, and perfect for fans of The Fault in our Stars and Everything, Everything, THIS is a book to definitely add to your TBR pile.
The film tie-in edition is coming out at the end of February and we cannot WAIT – cover to follow soon!
The Revolution Handbook – Alice Skinner (8th Feb 2018)
For anyone who's ever surveyed the world and thought, 'Ugh, where do I even start?!' comes The Revolution Handbook, a journal to help you kickstart revolutionary campaigns and log your activism memories.
Full of tongue-in cheek prompts and illustrations, activist-illustrator Alice Skinner encourages you to create your best campaign slogans, troll-stamping tweets and protest signs – this is the essential handbook for anyone who dreams of a better world, and wants to help make it a reality.
Through Alice's art, you'll find checklists for going on marches, tips for self-care when you find the world is just getting too depressing, and the confidence you'll need to stick two fingers up at the system, which we need right now MORE THAN EVER.
Mary's Monster by Lita Judge (8th Feb 2018)
If you like your romance on the darker side, we've got the perfect book for you.
Publishing to mark the 200th anniversary of the publication of Frankenstein, Mary's Monster is the compelling, and beautifully illustrated, story of Mary Shelley – the original rebel girl.
Part biography, part fantasy, this is the story of a remarkable woman and her monster.
Rock War: Crash Landing PB – Robert Muchamore (8th Feb 2018)
This author needs NO introduction: from the international bestselling author of the Cherub series, Crash Landing (8th Feb 2018) is Robert's explosive final Rock War book.
Jay, Summer and Dylan are fresh out of the biggest reality show there is. But they're about to discover what fame and fortune are really about…