Sophie Gonzales: My favourite complicated romances in YA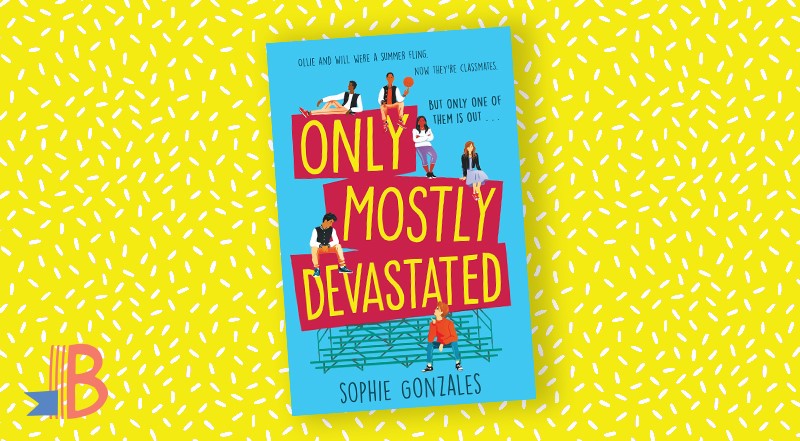 Sophie Gonzales, author of the utterly joyful queer reimagining of Grease, Only Mostly Devastated, on her favourite complicated romances in YA books.
Only Mostly Devastated follows the complicated relationship between Ollie and Will. When Ollie meets will at the lake on summer vacation, they quickly fall for each other, and spend many secluded afternoons in each other's company. But when a family emergency sees Ollie moving across the country to attend Will's school, Ollie finds out that here, Will is closeted, a dude-bro jock, and only mostly douchey. The feelings from summer haven't gone away, but the two boys find themselves struggling to find their new normal amongst an array of sudden obstacles.
While an easy romance can be wonderful to read, some of my very favourite romances in Young Adult fiction involve the complicated, messy, angsty relationships that get knocked down a million times—either by outside sources or the couple themselves—before finally securing their happily ever after. Today, I'm going to count down my five favourite complicated romances from Young Adult books. Do you agree with my picks? Is there anyone you would add?
Cardan and Jude from the Folk of the Air Trilogy by Holly Black
You can't make a list talking about complicated romance without visiting Cardan and Jude. Whether you love them or love to hate them, the one thing we agree on is that these two love each other despite their deadly ambition, penchant for betrayal and manipulation, and occasional disregard for each other's wellbeing (at least in the first two books).
While some people can't forgive Cardan for "trying to murder Jude with nixies" (I put this in quotation marks because when I read it, I genuinely interpreted it as Cardan believing the girls were in no real danger, and was surprised to hear other people read it differently. It goes to show how text can be subjective!), for me one of the best things about their relationship is it's two people who can give as good as they get, sparring to one-up each other until their initial loathing develops into an intellectual respect (the chemistry was there from the start).
Is their relationship healthy? God no! But sometimes it can be fun to read a book that carries the caveat: don't try this at home, kids. I wouldn't want to meet a Cardan in real life, but as far as stories go, it's one of the most entertaining stories of mutual manipulation I've read, so I have to award it a place in this list of complicated relationships!
Like Cardan and Jude (but minus the violence, and intentional atrocities), Will and Ollie's relationship goes through a toxic phase in Only Mostly Devastated. While Will isn't intending to hurt Ollie, that doesn't excuse his actions, and it isn't until Will has learned from his mistakes and demonstrated that he's changed that Ollie is able to be his friend again, and, eventually, more. Both of these books share the view that bad behaviour in the past does not have to influence the person you become. You can always change for the better. And while the people around you aren't required to forgive you, if you're lucky, they might, and you can create something healthy out of the ashes of something monstrous.
Simon and Blue from Simon Vs The Homo Sapiens Agenda by Becky Albertalli
What's more complicated than trying to date while you're closeted? Trying to date a guy you don't know the identity of!
Blue and Simon are the poster kids for a complicated relationship. The chemistry is undeniable, but they're kept apart by circumstance. They both start the story closeted, but when Simon is blackmailed with the threat of both of their identities being revealed to the school (because let's be honest, if those emails had leaked someone would figure out Blue's identity. We're not all as unobservant as Simon), both of their privacy—and possible safety—is threatened. Things get even more complicated when Simon is outed against his Will, and Blue rightly panics and withdraws, refusing to reveal his identity.
The fear of being outed, and the struggle between wanting to come out so you can shout your love from the rooftops like straight kids are allowed to, and wanting to keep the status quo going for a while longer because at least you know you're safe, is one that appears prominently in Only Mostly Devastated. Ollie is out, and Will is not, and while Ollie does not expect Will to come out, he becomes increasingly hurt and frustrated by the thoughtless actions Will takes when he feels his sexuality is coming into question by others—actions that affect Ollie, whether Will means to or not.
Seeley and Lou from Hot Dog Girl by Jenn Dugan
It doesn't get much more complicated than pretending to date your best friend to get closer to your crush, then . . . falling for your best friend. Woops.
The chemistry between Seeley and Lou is undeniable from the start, only it takes Lou way, way too long to realise that Seeley is her perfect match. Seeley adores Lou, shares her interests, and goes along with her ridiculous schemes—even if she doesn't agree with them—because making Lou happy is her priority. If only Lou weren't so distracted by Nick, their hot (taken) co-worker at the amusement park they all work at.
Like Will from Only Mostly Devastated, Lou has a tendency to be short-sighted and rash, and has the unfortunate habit of making choices that accidentally hurt the people closest to her in her single-mindedness. Like Ollie, Seeley puts up with way more nonsense than she should, because love is blurring her boundaries. But luckily, Lou has friends who will call her out on her bullshit, and she eventually learns how her actions affect people, and works to change her selfish behaviour and become deserving of the love Seeley has freely given throughout the story.
Lara Jean and John Ambrose McLaren from the To All The Boys I Loved Before Trilogy by Jenny Han
Woahwoahwoahwoahwoah I know what you're about to say. Sophie, Lara Jean and John Ambrose don't end up together! Well, yes and no. They don't end up together in the books. But in my heart? They do.
Here's my proposal: Lara Jean and Peter have a fun, bumpy romance for a while (I'm happy for her to chill with Peter for a while longer, he's not bad, he's just not . . . John.). Then they inevitably break up (probably Peter's fault, let's be honest. He probably knew about Lara Jean getting bullied by a hot girl and didn't take Lara Jean's side fully, or emotionally cheated on Lara Jean with a hot girl in distress because apparently that's his job, or lent Gen Lara Jean's engagement ring because she wanted to try it on or something), Lara Jean runs into John Ambrose at a college event. It's friendly, and it stirs up old feelings, but neither of them make a move. John Ambrose makes a slight reference to Peter, and Lara Jean doesn't immediately catch on that he's feeling the situation out. Then later that night she gets a message on Instagram: I just have to ask. Are you and Kavinsky still together?
Wow, sorry, that delved into fanfiction territory for a moment there. I promised myself I'd stop doing that outside of ao3.
Anyway, why are they an amazingly complicated relationship? The chemistry is there, and has always been there, but the timing was just not right. Even Lara Jean herself admits that they probably would've worked out if Peter hadn't gotten there first. Talk about a gut-punch!
This issue of timing applies to Will and Ollie in Only Mostly Devastated as well, their biggest obstacle is meeting at a point where Ollie is out, and Will is not. When two people are in such vastly different places, the chances of a union working out drop, and it requires some serious communication and compromise. But if Ollie and Will could do it, I believe Lara Jean and John Ambrose can do it, too!
Will and Tessa from The Infernal Devices Trilogy by Cassandra Clare
Will and Tessa from The Infernal Devices know a thing or two about complicated romance. I'm trying to toe the line of spoilers here, but lets just say Will has a very good reason for pushing people away, and his constant hot and cold with Tessa drives her mad, and is toxic, to say the least. But their love for each other is real, despite all the drama, and once Tessa realises why Will kept going cold, she is able to invest and accept the love he's finally able to give.
Will and Ollie's love story has a lot of similarities. You see, both love stories have a teenager called Will in them! I rest my case, your honour.
You need more than that? Okay, I've got more. For both Will and . . . Will (let's call them Will T and Will H), there's an exploration of intent versus outcome. Will H may have had a good reason for hurting those around him, but that didn't necessarily excuse him from accountability. Likewise, Will T hurts people when he acts rashly to prevent being outed in Only Mostly Devastated. Both Will H and Will T need to examine their past behaviours, acknowledge the effect it had on their loved ones, apologise, but—most importantly—commit to changing their behaviour and demonstrate this before they are able to participate in a happily ever after. And if they hadn't done so? Well, both Tessa and Ollie would have left them in the dust.
What a list! Tell us what you think on Twitter @teambkmrk and @sgonzalesauthor – are there any couples you would add?
Only Mostly Devastated is available to buy now.